Loft47 and QuickBooks Online
---

Eliminate spreadsheets using Loft47 & QuickBooks Online!
---
We believe saving people time is the ultimate show of respect and we continually work to relieve the pain and complexity in Real Estate transactions. We're tightly integrating with tools we consider best in class to bring efficiency, automation and value to our clients. With Loft47 you can pay commissions, track cash flow and spending, forecast revenue and measure sales performance. QuickBooks and QuickBooks Online has been a staple for business in the US and Canada for decades. Our integration allows you to merge accounting and real estate financial information to compile detailed financial statements while enjoying all the benefits and features of QuickBooks Online. Save hours of manual time & grief by eliminating spreadsheets now.
---
Two Way Communication
All edits are updated automatically with a direct link back to the transaction in Loft47 and all activity from Loft47 are pushed to QuickBooks Online. Each time Loft47 and QuickBooks Online communicate we sync the current balance of the Agents account so you can recover funds quickly.
Additional Integration
Make QuickBooks Online part of your full-stack back-office solution. Eliminate tedious, manual data entry by integrating apps you already use. Data flows automatically into your books, and you can review everything in one place.
Automated Bank Reconciliations
Leverage QuickBooks Online Live bank feeds, bank rules and newly introduced grouping features for simple and speedy bank reconciliations of transactional activity pushed over from Loft47.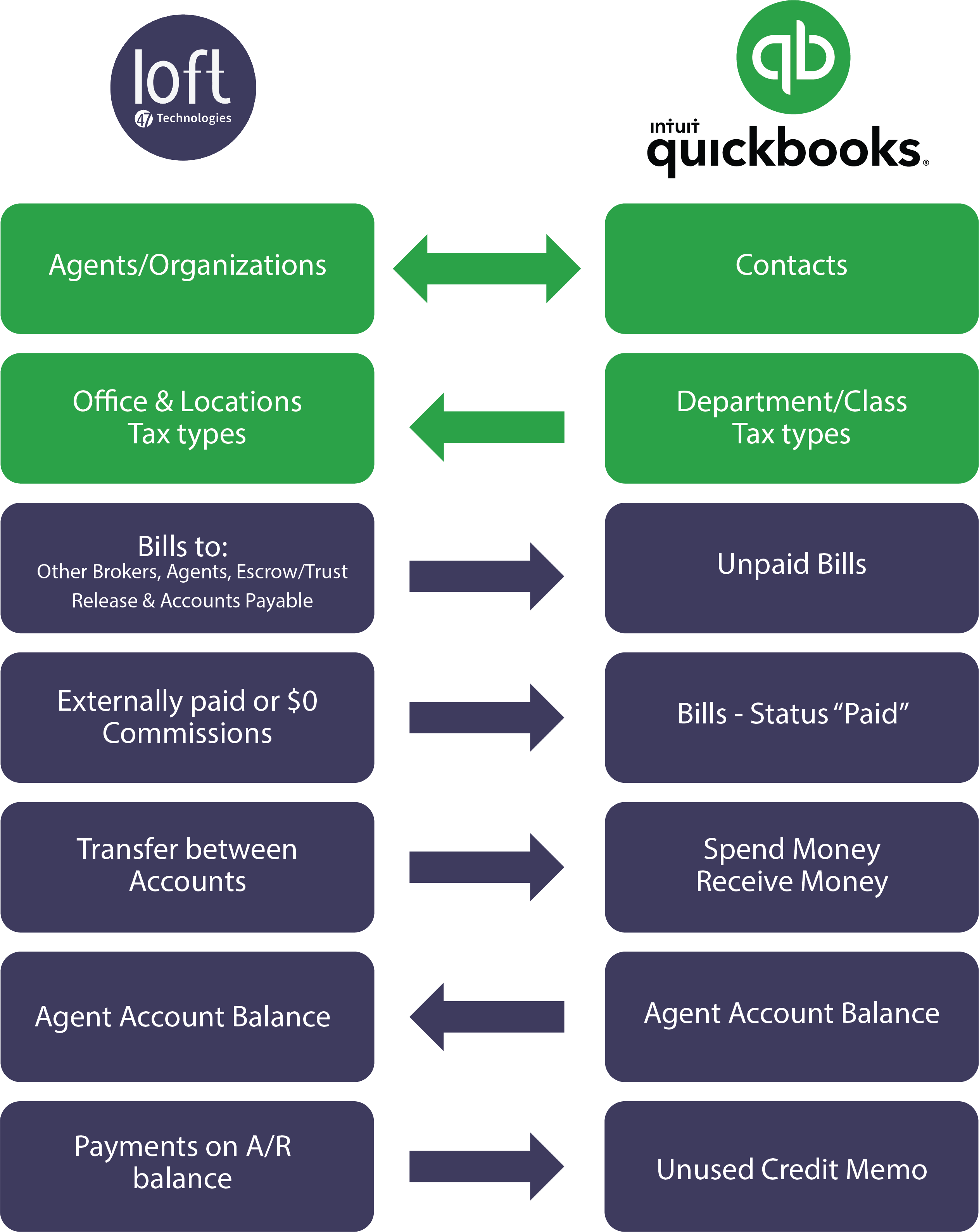 ---
About QuickBooks Online
QuickBooks Online makes any place, your place of business. Working online with cloud accounting software means your business data is always safe, accessible, and synced across all your devices. The companion mobile app means you can get work done on-the-go and your financials are at your fingertips. Working in the cloud also enables you to connect to a wide variety of third-party apps and business services you may already be using to help you get your work done.
Get a real-time view of your cashflow from any device
Run your business on the go
Get automated bank feeds for fast reconciliations
"Intuit and QuickBooks are registered trademarks of Intuit Inc. Used with permission."
What Our Customers Are Saying
Claire Wellman-Hoaglund

Nov 21, 2020

Honestly the best customer service I could ever hope for. This program is amazing and the customer support is top notch. Thank you for all your help! I can't tell you how many times you have saved me from a major headache!

Rae G. Oct 21, 2020

Loft47 is a solid cloud based application that manages real estate transactions, agents and document storage. It is user friendly and versatile such that we are able to build a platform of applications specific to the independent needs of each of our unique brokerage clients. It syncs seamlessly with the cloud based accounting software Xero. We've had only positive interactions with their integration and ongoing support teams. If you are considering a cloud based solution look no further than Loft47.

Nick Davies. Nov 24, 2020

Simple design, easy to use and a great support system. I recommend Loft47 to real estate brokerages in need of a reliable project management system.

Richard Leblanc. Jan 15, 2021

This is the most user-friendly and accurate website, easiest to navigate and gives the information needed, no more no less. I would recommend Loft47 to any Broker.

Shami Sandhu. Nov 11, 2020

After looking at a number of other potential back-office solutions for our Western Canadian Brokerages, Realty ONE Group selected Loft47. The support team has been amazing helping us onboard and any ongoing support our franchisees. Strongly recommend their program for any size brokerage.