Working at a Real Estate firm back in 2010, our back-office software was clunky and inefficient. Its reports were hard to understand and didn't tell us what we needed to know.
This problem, I learned, afflicts the whole industry.
Trust accounting is complex, and any software for Real Estate has to work for escrow states and Canadian markets. Different Brokerages have unique commission structures, and software has to be flexible to account for many different variables. Hard problems to solve.
When I was looking for a software to handle sales transactions and commission, I learned no one had eloquently solved this problem. Software that was mobile, flexible and easy to use just didn't exist.
We eventually resigned ourselves to the reality of the market and deployed a 25-year-old software that everyone else was using. This left us with three huge issues:
1. Real Estate software is inefficient
Even the best Real Estate accounting software is tedious to operate. Overwhelmingly, Brokerage owners, office managers, and Agents find Real Estate software illogical and hard to use. To close a deal, you start out putting in the client information, and then jump to a different window and fill that in, then jump to a third window and fill that out. You have to literally juggle different windows to close a deal — it doesn't make sense.
It took a long time to finish even one transaction. Instead of inputting data as part of the deal workflow, administrators have to set large chunks of time aside to go into the system and input all their data at once. It's inefficient.
2. Real Estate software is hard to understand
Real Estate software is so complicated that Brokerages often have to hire or train a specialist for it. One Brokerage owner I spoke to had depended entirely upon his business partner to know how the business was doing. When his partner left the firm, not one person on the management team could access the software to get data directly to their Agents. "We always had to go through one employee who kind of understood the software language," he said, "and then have him interpret how to read certain reports."
Understanding the software is necessary to make even low-level business decisions. Without that one person who can interpret what is going on, Agents don't get paid on time. It's a problem.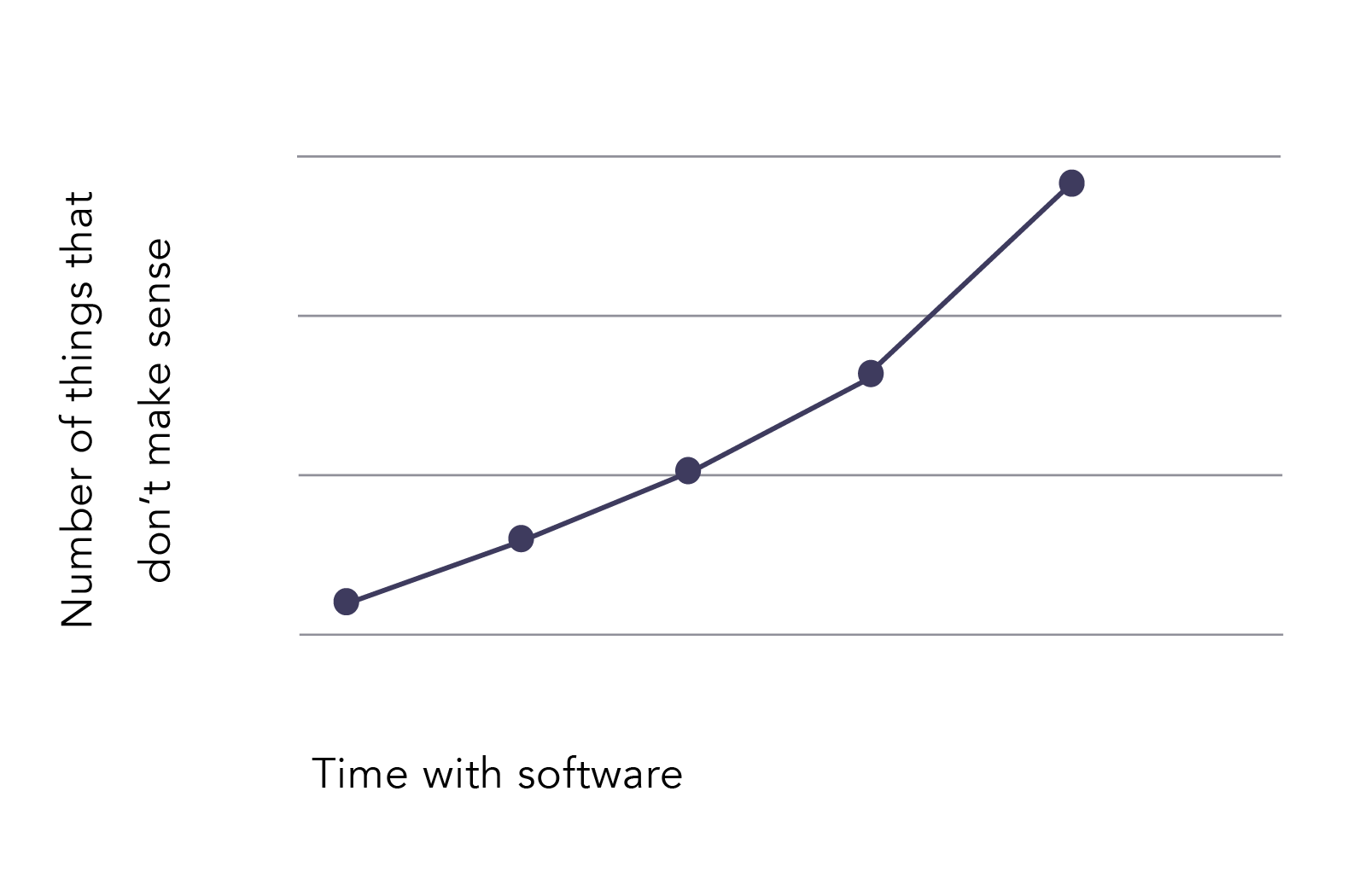 3. Real Estate software makes data hard to understand.
I also heard from Brokerage owners that they just did not have high level insight into their business. They didn't know how their company was doing financially (all the accountants reading this are nodding their heads right now, right? You've seen this before).
Management found it especially difficult when the software was too dense to understand. One Brokerage owner was continuously frustrated: "Getting data out of the system," she said, "and doing simple things like reconciling bank accounts was an enormously large, cumbersome task. I have always felt that there had to be a better way." Another admitted to me that they just gave up, and didn't have any business reporting system at all.
Real Estate Agents, too, often can't read their own reports. "They just don't understand the data," an office manager explained, "and they don't know how to interpret it. And it's their data, it's their production. It is what they are paying, their invoicing, and it looks at their pipeline. And they don't understand it."
Brokerages needed two things: accessible data, and the ability to read the data. Traditional Real Estate software just doesn't deliver.
Searching for Real Estate Software Solutions
There had to be a better solution. If I couldn't find one, I told myself, I would build one. A software that was easy to use, handled unique fee structures, and integrated seamlessly with other tools. I wanted something that would empower Agents to fill out their own data quickly, so they could feel in control of their own deals. I wanted it to be a subscription software so Brokerages didn't feel locked into using it, and I wanted it to be available from anywhere so multiple offices could use it at once.
I knew I didn't want to rebuild an accounting platform. I wanted to automate entries for Brokerages so they could use qualified accounting software to interpret their business as a business.  I made it my job to test and compare all cloud-based accounting solutions on the market. At the time, Xero was just a newcomer, but I included them in a list of 11 other options including Sage, Wave, Quickbooks, and Kashew.
I weighed features, ease-of-use and functionality against price to determine their value, and Xero, more than any other for me, struck a balance between usability and functionality. After using it for a few months, Xero became the accounting software I recommended and the product I chose to build the Loft47 platform on.
Building a Real Estate Software Solution
From my perspective, Agents, office managers and Brokerage Owners spend way too much time dealing with tedious software. They need to get back to selling Real Estate.
In 2016, I started Loft47 to solve this exact problem. The team at Loft47 has built our software right on top of the best accounting software in the world — why reinvent the wheel? Xero is our number one partner, and the reason our software works better for accounting than any other in the Real Estate space.
Thanks to Xero doing all the hard work, we were able to focus on building a simple and intuitive interface for Real Estate. This allows us to provide complex accounting abilities while keeping it simple for users.
Recently, I circled back to one of our earliest customers. Their accounting story is a perfect example of how Loft47 is changing operations for Brokerages:
"We pay for all of our Agents' marketing, and we take the front load of their business costs when it comes to listings, and even prospecting for our marketing department. And we would carry those costs, and then when they closed a commission check, we would back those costs that we carried out.
But that left us having a very, very unhealthy sort of accounts receivable from our Agents, which in an up-market isn't horrible, but in a down-market you could be carrying for months. So we were able to, as we changed all of our systems internally, get onto Loft47 and integrate Xero and Bill.com. We also changed all of our invoicing. Now we're billing our Agents live and not carrying the debt, and then giving them a way to pay directly into our accounts with a credit card system."
-Brokerage owner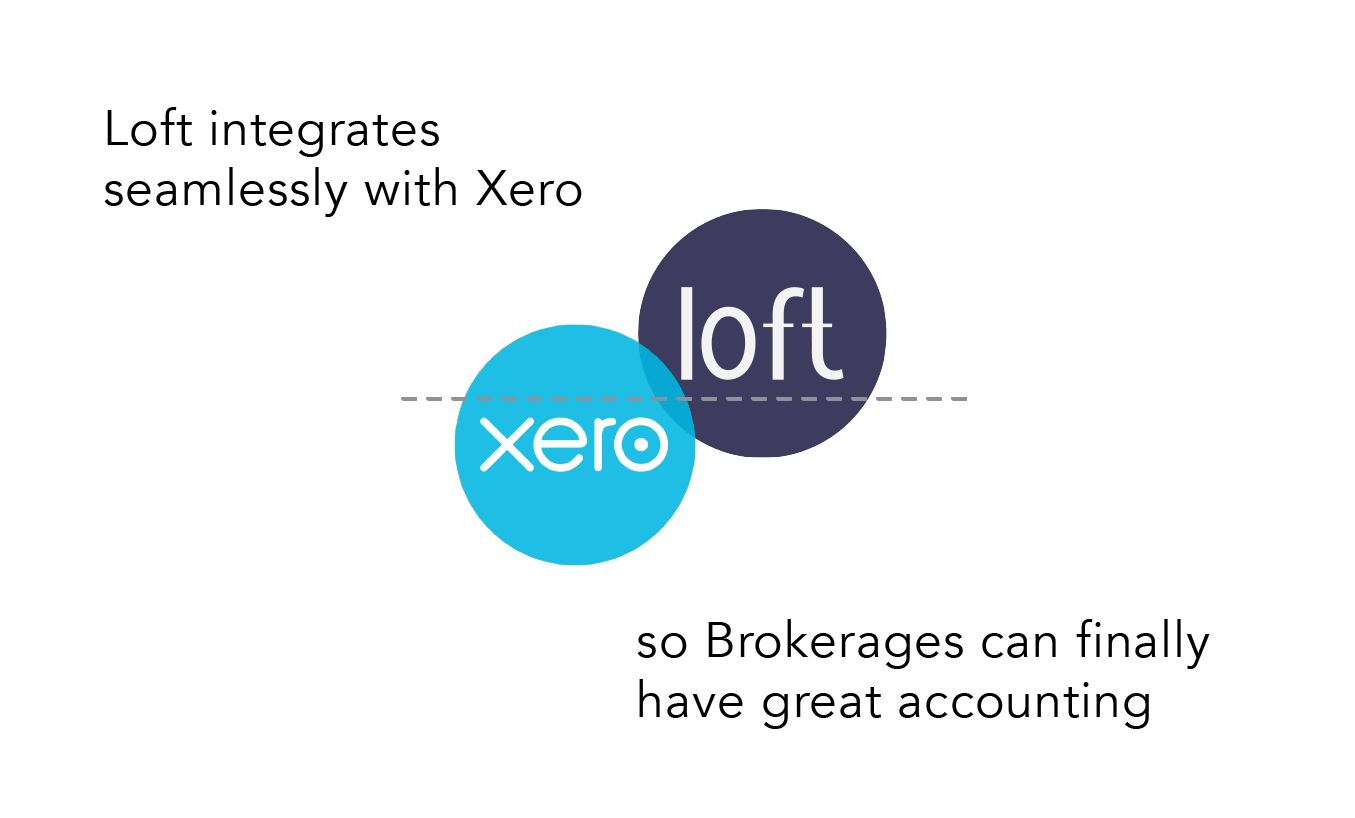 Good software allows Brokerages to put technology at the center of everything they do. With Loft47, they can now experience a fully integrated Broker solution from end-to-end. This means that Real Estate accounting just got a lot easier.
How Real Estate Accountants Can Use Loft47
For accountants, Real Estate is a huge, accessible market with over 90,000 Brokerages and two million Agents in North America. As an industry, they say it's "recession proof." Houses sell in periods of high or low economic growth. The accounting that Real Estate needs is specialized, but simple — if you can figure it out and provide great service, it's a comfortable place to be. Real Estate Agents work by word-of-mouth, so once you are known and trusted, word spreads.
Real Estate has some special accounting rules, and it's helpful to know what to expect. Then, once you learn how it works, it can be your most profitable niche.
Loft47 and Xero are now offering Real Estate certification. It works the same way as the Xero certification and badges. This short course covers topics like:
The process around closing a Real Estate deal
How the funds are handled
The required accounting entries (that Loft47 automates for you)
The KPIs and lingo that help you communicate with your client
Roles in the industry and why Loft47 & Xero are valuable to them
If you are an accountant looking to enter the Real Estate space, or want to learn how best to use Xero and Loft47 together, please join us on our journey to get Real Estate Agents back to selling. Get on our course list (it's free!) and we'll give you the best insight into Real Estate accounting software you can get!
Yes! Show me the free Real Estate Accounting Guide.
Sasha Hryciuk is the founder and CEO of Loft47 (www.loft47.com), a Real Estate software firm. Loft47 helps Real Estate Brokerages streamline their finances. It is a Xero Awards 2017 recipient of the Industry Specific App of the Year Award